El Cortez is one of the oldest of all the Las Vegas hotels and it is easily one of the most likable, especially if you love that old-school Vegas feel.
It is situated Downtown close to, but not part of, the Fremont Street Experience.
It is very much on the hotel scale of things rather than a resort, as are most of the properties Downtown, but that shouldn't put anyone off.
El Cortez overview
Location: Downtown
Opened: November 1941
Last renovated: 2019
Number of rooms: 364
Gaming space: 41,842 sq. ft
Operator: Independent
Permanent shows: None
Nearby attractions: Fremont Street Experience, Container Park
Price guide: $
Location
Downtown Las Vegas is a small area jam packed with hotels and casinos that are all bunched around the Fremont Street experience.
El Cortez is the most easterly. It is not actually within the Fremont Street Experience but it is very close by, no more than a two-minute walk. In terms of accommodation, that can be a big positive as you are away from the noise.
You're a taxi or bus-ride away from the Las Vegas Strip in this part of the city though, so bear that in mind.
Getting around
You don't need anything but your legs to enjoy the best that Downtown Las Vegas has to offer and El Cortez is very much part of that.
There are another 11 casinos and hotels, as well as the Fremont Street Experience, all within a gentle 10-minute walk of El Cortez.
As mentioned, the Strip is certainly not within walking distance, but the Deuce bus has a stop nearby and that will get you all the way down the Strip and back again. It runs every 10-15 minutes.
El Cortez Rooms and Amenities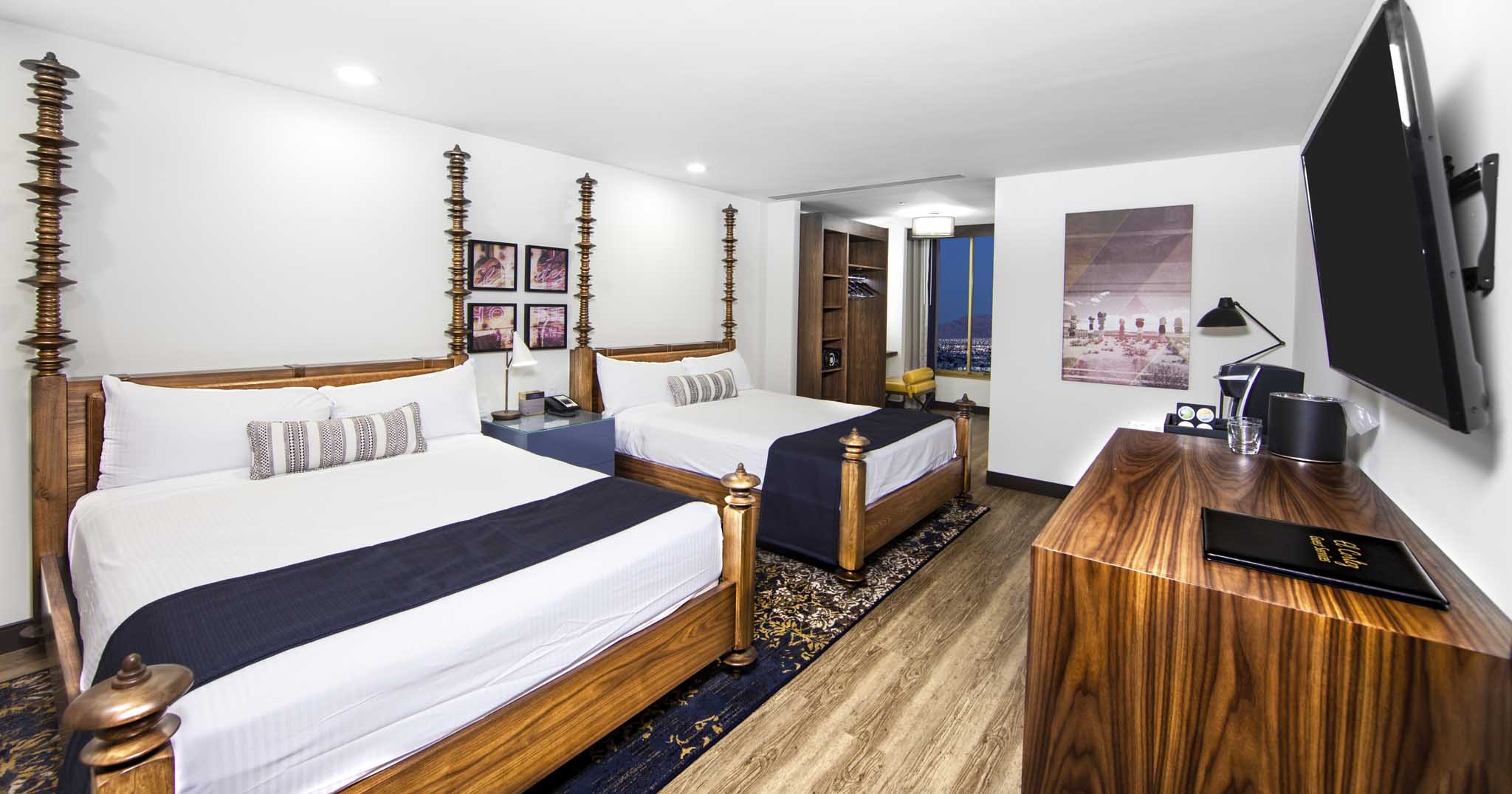 El Cortez can't compete with the Las Vegs Hotels, or mega-resorts, on the Strip, but the rooms are a good standard.
They are, as you would expect, smaller than others in town but not oppressively so and they offer extremely good value.
Once you start upgrading into the Tower Room Premium rooms and suites, you won't feel like a poor relation. They are large and well-designed.
Amenities are okay too, with access to a fitness centre, a spa, a salon and a barber shop. There is no pool, though. The casino is an excellent size with a great vibe.
RELATED: El Cortez casino review
Food and Drink
El Cortez does not have many food options, but again that is quite usual for Downtown.
It does have Siegel's 1941, though. I found that to be good quality food at a very reasonable price.
There is also a Subway and a sushi bar for quick and cheaper eats, and there are three bars/lounges to enjoy a drink.
Shows and Attractions
El Cortez does not have any shows in residence. However, the Parlour Bar does offer nightly live music, often provided by Michael Nugent.
It is very traditional Las Vegas lounge entertainment and they do it well.
The hotel itself has no attractions either, but don't confuse that with there being nothing to see and enjoy while you're there.
Fremont Street Experience is very close and it is also the closest property to the Container Park. There is a giant mechanical fire-spitting praying mantis there – which I assure you isn't nearly as cataclysmic as it sounds.
RELATED: Eight reasons why you must visit Downtown Las Vegas
El Cortez Pool
There is no pool at El Cortez, but that is not uncommon with downtown properties. They just don't have the size and sheer scale of the properties on the Las Vegas Strip and El Cortez certainly fits into that category.
Conclusion
El Cortez is a friendly and fun hotel in the most vibrant part of the city. It's small but in no way insufficient.
Pros: Great pricing and places you Downtown without having to worry about the noise from the Fremont Street experience. Authentic old-school Las Vegas feel.
Cons: There is no pool and it's not as flashy as the mega-resorts.
Considerations: If you have your heart set on experiencing the Las Vegas Strip and one of the mega-resorts there, El Cortez simply isn't for you. You should still visit it while you are in town, though.