If you want to indulge in some Las Vegas gambling, then Downtown, where there are 12 casinos within ten minutes walk of each other, is a great place to do it. So what can you expect from the Binion's casino?
Binion's casino is right on the Fremont Street Experience, so it's one of those with a great lively atmosphere. It also has some of the most recognisable neon in Vegas too with its distinctive blue strips, so it's one of the ones that really stands out from the street.
In terms of gaming space, the Binion's casino is also one of the bigger ones Downtown.
RELATED: Quick start guide to hitting the casino in Las Vegas
Binion's Casino overview
Total gaming space: 77,800 sq. ft
Rewards program: Club Binion's
Number of Slot and video poker machines:  800+
High Limit slots room: No
Table games: Baccarat, Blackjack, Roulette, Craps, lot of variations of poker
Poker Room: Yes
Sports book: William Hill
Smoking: Yes
RELATED: Las Vegas rewards clubs and how to make the most of them
In the Downtown area of Las Vegas, you will find a vast array of casino types. There are modern casinos with a Strip vibe, boutique-style casinos and old-school gambling halls.
Binion's is most definitely the latter. There is nothing fancy about it at all and no pretence either.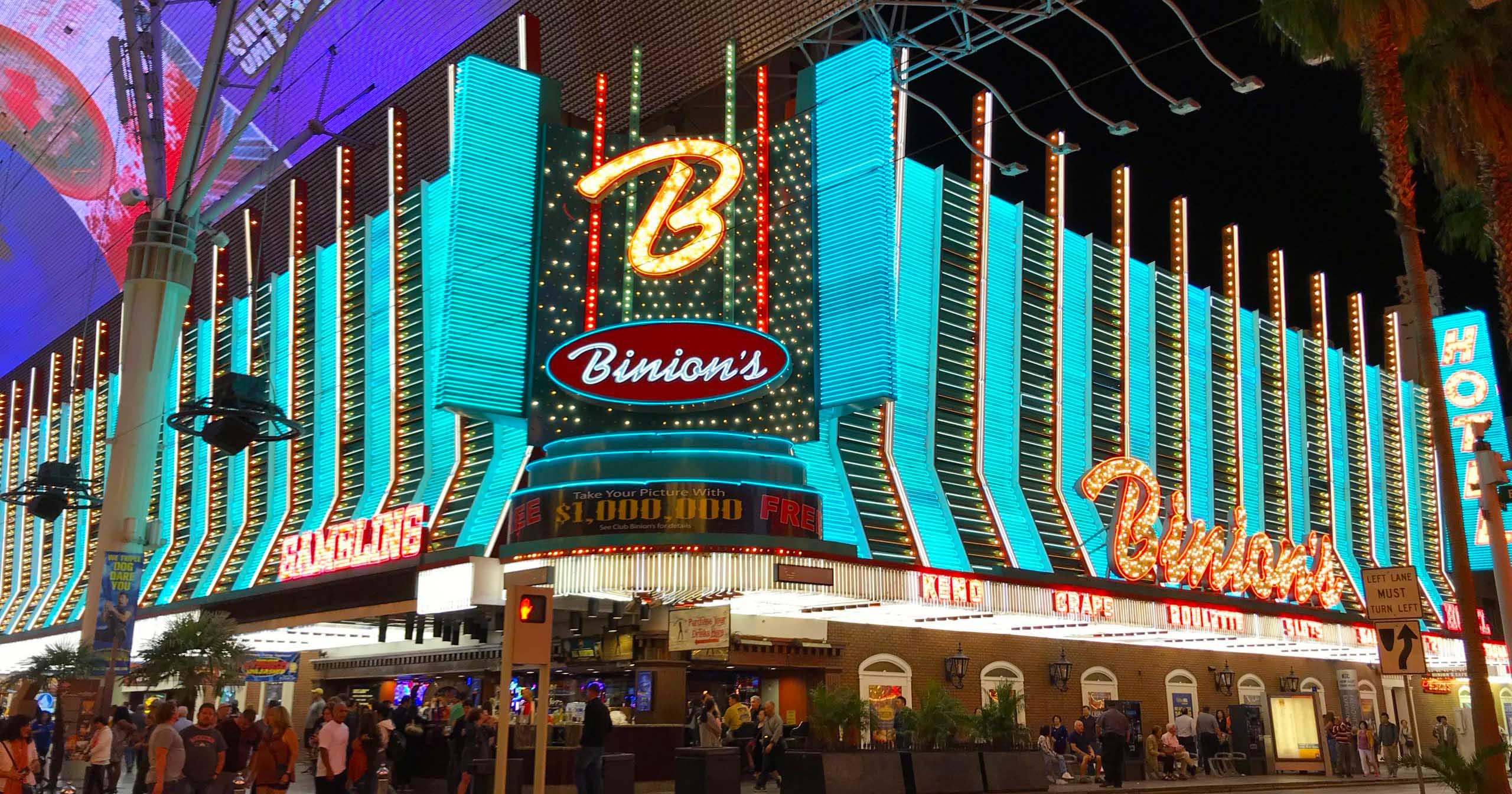 That may put off some visitors but, honestly, there is no reason it should. It's still a perfectly pleasant place to while away a bit of Las Vegas gambling time, even if it is unashamedly short on glitz.
For others, I dare say that vintage feel is a serious attraction and that is all part of the fun of Downtown Las Vegas – there is something for everyone.
Gambling at Binion's casino
The Binion's casino does not have the scale of others in town. There are just over 800 slot machines and a mix of classic and modern. To their credit, though, they could probably get more in there but it would start to feel very cramped. Other casinos have done that, and they are not really to my personal taste.
As with all Downtown properties, the Binion's casino is busiest in the evenings when the Fremont Street Experience fires into life. That can be even more so at weekends.
The Binion's casino offers a good variety for those who prefer table games too, with the usual Baccarat, Roulette, Blackjack and Craps on offer.
There are a number of Poker variations to play too as part of a good selection of specialty games including Progressive 3 Card Poker, Let-It-Ride, Pai Gow, and more.
Unlike on the Strip, the table limits in the Binion's casino are very reasonable too, so it's far from unusual to see $5 blackjack there. That doesn't sound like it should be all that rare, but it is unfortunately getting rarer in Las Vegas.
One of the great positives of the Binion's casino is how close Whiskey Licker Up is. It is one of the best bars – or Saloons, as it prefers to be called – in all of Las Vegas with nearly unrivalled views of the Fremont Street Experience, so be sure to make the most of it. Spend some winnings there, or take a break from losing there!
Binion's is a themed hotel, albeit quite loosely. There is a wild, Wild West theme, and that is maintained by the dealers dressed as cowgirls. Meanwhile, the cocktail waitresses are easy to spot in blue corsets in another take on the theming.
Sportsbook and drinks service
The waitress service at Binion's casino, in my experience at least, is very good. Waitresses patrol regularly and return quickly. Others may have had worse experience, but I have found it up there with the best of them.
For those who like their Las Vegas gambling to centre around the sports, there is a sportsbook at Binion's. It is a far cry from the scale and luxury that other properties offer, though.
Rewards club
Binion's casino has its own rewards club called, perhaps unimaginatively, Binion's rewards.
It is essentially shared by sister property Four Queens, certainly in terms of rewards. Quite annoyingly, though, you have to get a separate card in a separate club at Four Queens (Royal Players club).
Rewards earned at one can be redeemed at the other, but it's just a bit of a needless faff.
ALSO READ: LAS VEGAS HOTELS: Binion's review and guide